Alan Carson, Minister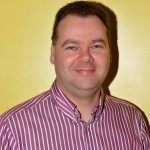 Alan grew up in north Belfast, studied at Queen's, worked in Antrim and then was called to be a minister. After training he started ministry in Donegal, before periods in Orangefield in East Belfast and Newtownards, before coming back to his roots receiving a call to Abbey in January 2015. His passion as a minister is be a relevant teacher, a caring pastor, and a leader who enables people to find and use their gifts, and the Church to change to meet the challenges and opportunities of today. He is married to Gillian with two children, Joshua and Leah, one rabbit and two goldfish. He has an interest in all things to do with cars, and claims to own a bike – but is rarely seen on the many local bike paths.
---
Alex Boyd, Pastoral Assistant
Alex came to Abbey as pastoral assistant in 2007 following his retirement from Ballyhenry Presbyterian Church. He has also ministered in Banbridge Road Presbyterian Church, Dromore. He is married to Margaret and has 3 children and 3 grandchildren.
Alex was born in Ballymena where he was a dairy farmer before taking up the call to become a minister. He enjoys watching sport and has been involved with Tear Fund for
many years.
---
Thelma Coffey, Clerk of Session
I have been a member of Abbey since it started. My family grew up in the church and along with my mother there are now 4 generations attending. I am married to Mervyn and have 2 daughters, 2 sons-in-law and 5 grandchildren. Since a teenager I have been involved in the work of the church. In my early twenties I felt the need to know more about God and it was wonderful how God led me into a very close and personal relationship with him. One which has meant that I don't doubt his love for me. This doesn't  mean that the Christian life is easy – I'm still work in progress. I became an elder in 1994 and Clerk of Session in 2004. It is a privilege to be able to serve the Lord and his people through the gifts he has given me.'
---